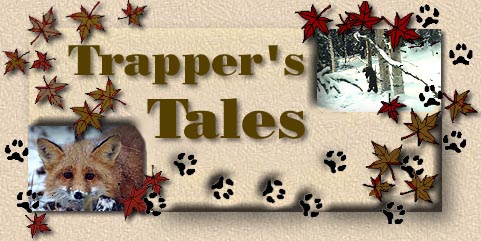 Home
~ Mission_Statement ~ Trap Talk ~ Trap Chat ~ Trapper Tips ~ Links ~ Gallery
Mentoring Page ~ Basic Sets ~ Trapper's Tales ~ Event Calendar ~ Trap Shed ~ Words From The Past
~ Catalog ~
---
One of Those Days
by
Blake Box
Robert Lee, TX
If you have trapped long enough you have eventually had one of those days. One that is forever etched into your mind, it could be for a great day's catch or for some problems that occurred during the time while making your daily rounds. You have or will experience one of those days sooner or later on the trapline.
This is about one of those days, that happened to me. It started out a normal day on the line. I left the home ranch about daylight, and drove 20 miles to a ranch we call the Jackson Place. It has some rough country, and is not very large in Texas standards, only 880 acres. However it does produce quite a few cats every year and is a great addition to my line.
Well back to the story. I drove into the ranch and my first catch was a nice size coon. I followed the ranch road around the place checking other traps without a care in the world. I took another coon before reaching the back side, dispatched it and went on to a draw that I have named Bobcat Draw. I have taken several (20 or more) cats from one set in this draw in the past few years.
When I got to the bottom of the draw, I noticed that I had caught a civet cat in a 160 bucket set. I killed the pickup, and remade the set. I also noticed where a cat had traveled the night before so I made another set in the draw. This is where my problems began. I finished the set, got back into the pickup and weeeerrrrrrr, the starter would not engage. I though no problem, I will just call the Ford house and have someone come get me, but as they say, "the best laid plans of mice and men". The dang cell phone would not get out of the hole I was in. Well, I thought I will carry it up to the top of the hill and make the call from there. Wrong again. I came to find out later that the cell tower was down.
Well, the fun part began. I started walking to town, and wouldn't you know it, a cold front decided to kick it in high gear and made it appearance about the same time I started walking. I thought this is no problem, I will walk a few miles to the highway and catch a ride to town. I walked to the highway, but I could not get one person to pick me up. So needless to say, I walked the eight or nine miles back to town. By the time I made it, I was as hot as a 2 dollar pistol. You see, I had just had that pickup in the shop the day before getting a clutch put in. Well, I asked the shop foreman for a ride to get the pickup, but he said he was busy. So I then asked if I could get a ride to the ranch so I could get another vehicle. Well, he finally found a hand to take me out to the other ranch so I could get another pickup and finish checking my line.
Since, I was back to the home ranch I decided to check my line there before going back to the Jackson Place and finish there. I was still plenty hot, and running the days events over and over in my pea brain. But as luck would have it, about the fifth or sixth trap, I had a nice red fox. That made me feel better about the situation. Then later on down the line, I had another dry land coon, (in West Texas in 2000, that is all we had was dry land coons). By then, I was thinking things are looking up, except for my feet were beginning to burn and swell from the mornings hike.
My last stop of the day on this ranch was a trap set that I had been having problems with. I have had several traps dug up, and had worked the set over the day before. I had taken a piece of wax paper and covered it just like there was a trap there, making sure to leave a little of it exposed. I then set 2 number 2 Montgomery dogless about 6 to 8 inches behind the wax paper. Sure enough there was my digger, a nice dog gray fox, with a trap on one front foot and one on both back feet.
After redoing the set, I left to go back to the Jackson Place. The drive was uneventful. I went straight back to the last set I checked before the pickup quit and my morning walk began. To my surprise, the conibear set that had taken the civet cat out of that morning held another one. This was quite a surprise because I had always come to believe that civets were absolutely nocturnal. I guess this one must have missed that day in school, because he was there and I had remade the set that morning after sun up.
I continued to run my line and on my next to the last stop I had one of the prettiest feline bobcats I have ever caught. I call them jungle cats, she was blue with dark black spots from her head to her toes. She had no trap damage and I knew a taxidermist that would be chomping at the bit to get her.
After remaking the set, I headed for the house. I was still not happy about the pickup or the day's walk, but at least I did have a day that I can look back on, and reflect. I truly believe that this is what make all our trials and tribulations worth the while. It gives us something to look back to on a hot summer day when we long for the cool crisp air of winter. I gives us a reason to look forward to the next winter when we can hopeful make one more memory.
Not all days on the line are good or productive, but it sure beats being stuck in a office somewhere, doing something that we do not enjoy.
LIKE PAPERWORK!!!!!